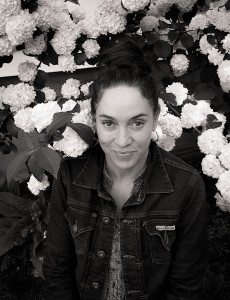 When I was a child I asked my father how people on television made themselves and others magically disappear.  His answer was to set up his camera equipment, and direct us in a carefully choreographed sequence that we followed precisely.   My father's camera work did nothing to dispel the mystery of the trick; if anything, watching my brother and myself disappear into thin air increased our sense of the fantastic.  In my case, this experience sparked an ongoing questioning of seeing and believing that led to a curiosity about image making, then eventually led me to a study of photography.  Up until now my subjects have been things of the natural world:  jellyfish, birds, insects, botanicals, museum specimens and photograms depicting the cosmos.  These are the visual narratives I have used to reflect on ideas of fragility, interconnectedness and duality.
I say 'visual narrative' but my work could also be said to be 'photographic investigations.'  The childhood curiosity that the making of the film aroused has expressed itself in various picture series that, for me, form a visual narrative.  The Museum Specimen photographs were taken in the archives of the Muséum  National d'Histoire Naturelle in Paris, a museum founded during the French Revolution representing the natural world of animal, mineral and plant.  It has a fascinating history and includes items collected from the early 16th century Royal Cabinet and other lesser known cabinets of curiosities.  But it is in the large storage space not open to the general public that I was privileged to visit.  In that room were jarred specimens–human and mammal–that moved me in such unexpected ways that my only response was to photograph them.  They were, by turns, unusual, disturbing, tender, spellbinding and startlingly beautiful.  The resulting series is my version of their story.
The photograms in the series 4πR2, are one-of-a-kind images captured directly onto photographic paper made from light projecting down from the enlarger through liquids in a petri dish. These images took me from the compact worlds of the individual museum specimens to the idea of macrocosmic existence.  Each print represents a tiny fragment of the universe, as fragile and as ephemeral as life on earth.  Astronomers  tell  us that the story of the planets and stars is one of birth and death, appearance and disappearance, not unlike the concept behind the experimental film we helped make as children.
The Cirque Des Fourmis is a collection of hand illustrated photographic compositions of performing ant cadavers. The ants were found floating in the sugary pink liquid of a hummingbird feeder.  I'm not sure why I was so moved by such seeming insignificance, but watching them float was like watching them perform and I imagined them in a circus.  I made one circus in two acts of 20 hand colored photographs. There is also a corresponding accordion bound book called, Cirque Des Fourmis.
Whether it's looking at the venation patterns in an insect wing, watching the graceful undulations of a swimming jellyfish, or beholding the majestic beauty of the Red Crowned Cranes dancing in the snow, the mysteries of the natural world provide a limitless source of awe and inspiration.  Trying to understand the complexities behind the force of nature that makes "life" want to happen and the extreme fragility in which it exists will be an ongoing investigation.  One thing that is highly likely, however, is that something perfect is happening.
—————————————————-
All photographs are taken with a variety of cameras and lenses with high to low resolution capabilities.  Gelatin silver prints are available in most of the series up until 2008 and are printed on 8 1/2 x 11 inch paper, sepia toned and made in editions of 45.    The Museum Specimens are printed on 11 x 14 and 16 x 20 gelatin silver, sepia toned, editioned at 10.  My  current photographs are archival pigment prints, printed on photo rag paper  in an edition of 10.  The sizes vary with the image.